Chair of Milli Majlis Sahiba Gafarova Went to Mirza Fatali Akhundov Museum of Azerbaijani Culture and National Museum of Georgia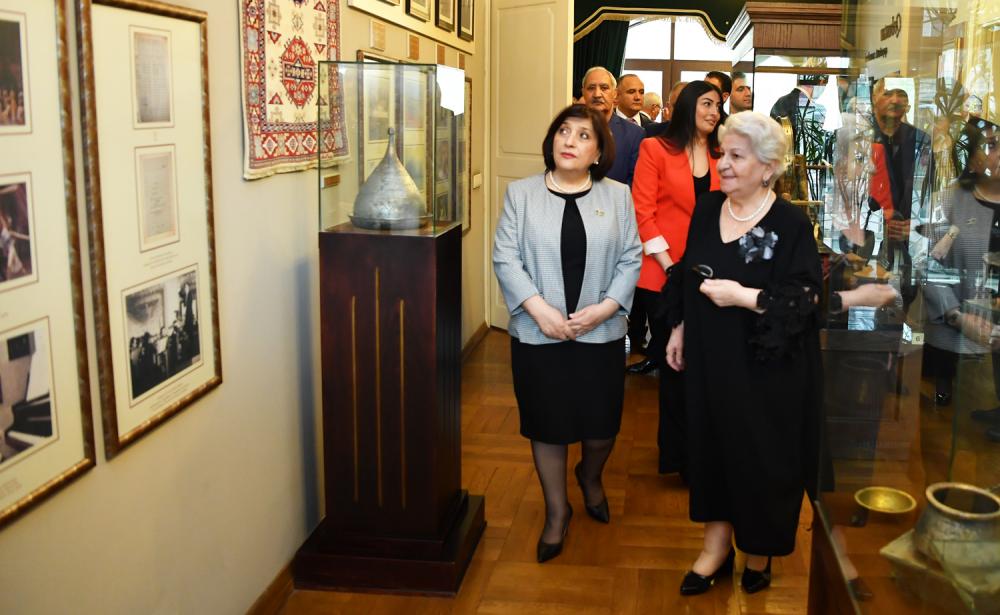 During her official visit to Georgia, Chair of the Milli Majlis Sahiba Gafarova has gone to the Mirza Fatali Akhundov Museum of Azerbaijani Culture in Tbilisi on 20 April.
Whilst at the museum the building of which was built on the money of M F Akhundov himself at the time anon, by the way, Mrs Gafarova and the members of her delegation were told in detail about the life, work and creative endeavours of the prominent Azerbaijani writer and public activist Mirza Fatali Akhundov. That building was made a museum. The memorial house of Mirza Fatali Akhundov was opened in 1982 on the appeal of the Azerbaijani intelligentsia to the Georgian administration.
The memorial house was repaired following the official visit to Georgia of the Great Leader Heydar Aliyev in 1996 and had since functioned as the M F Akhundov Azerbaijani Culture Centre until it was given the status of the M F Akhundov Museum of Azerbaijani Culture in 2007. The premises were refurbished in 2013; the refurbishment was funded by the Azerbaijani Republic.
There is a culture centre under the auspices of the museum; there, they conduct carpet-making, music, mugam, painting and language courses. The main lines of work of the museum consist in presentation and popularisation of the Azerbaijani culture and the heritage of our nation. The visitors were told that the museum hosted cultural events, meetings and conferences.
The Speaker of the Milli Majlis walked the museum rooms acquainting herself with the exhibits and expositions. Sahiba Gafarova made a heartfelt entry in the museum's memorial book and gave the museum a gift.
* * *
Sahiba Gafarova and the Milli Majlis delegation she leads called at the National Museum of Georgia on the same day. They were welcomed by the museum's director general David Lordkipanidze who informed them thoroughly about the institution in his charge.
The delegation members went to the museum rooms to look at the expositions, exhibits and archaeological excavation finds. There are valuable artefacts telling of the ancient and new history of Georgia and the region as a whole there.
The Chair of the Milli Majlis gave the museum a present.
The Press and Public Relations Department
The Milli Majlis
---
---