Participants of NAM PN Baku Conference Went to Shusha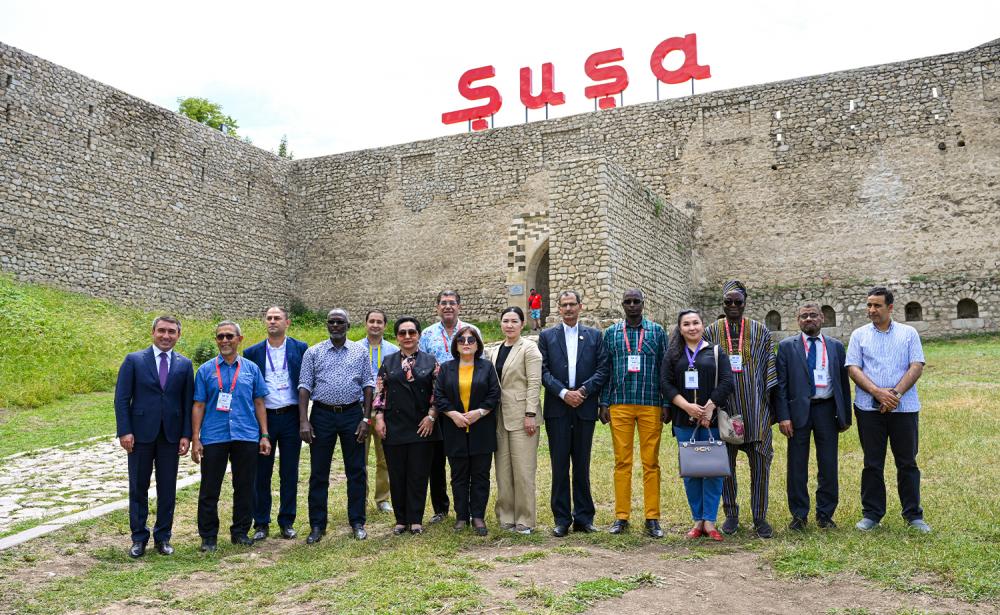 Members of the delegations that attended the Baku Conference of the Parliamentary Network of the Non-Aligned Movement travelled to Azerbaijan's culture capital of Shusha in the company of Speaker of the Milli Majlis, Chair of the NAM PN Sahiba Gafarova and other officials on 2 July.
The trip first brought them to the international airport of Fuzuli where they were made familiar with the technical capabilities of those 'Air Gates of Garabagh' built in a short time to the orders of the president of Azerbaijan Ilham Aliyev.
From Fuzuli they set onwards and all along the way they could see for themselves the villages and standalone houses reduced to ruins in the time of the Armenian occupation. The guests were told how the invaders had destroyed Azerbaijani towns, villages, schools, houses, cultural heritage and libraries.
For that, the participants of the NAM PN Baku Conference participants also observed, during the trip to Shusha, the current restoration and rebuilding work afoot in the de-occupied lands.
Once in Shusha, the parliamentary delegations heard a tale of the Stronghold Walls, the town's history and condition during the occupation period and the current restoration and re-construction work going on in the town. The monuments of history and mosques of Shusha are being repaired under the immediate control of President Ilham Aliyev and First Vice President Mehriban Aliyev, the guests were told. They also found out about the already-restored cultural heritage pieces and the new buildings to be erected in Shusha yet.
There was a sight-seeing trip to the Stronghold Walls, the building of the Special Presidential Envoy in the town square that is being built anew and the town square itself with the statues of the prominent Azerbaijani arts personalities Khurshidbanu Natavan, Bulbul and Uzeyir Hajibeyov which the Armenians had been shooting at in the occupation period. While walking around town, the guests heard the narrative about the damage the Armenians had dealt to the tangible heritage of Shusha.
The parliamentary delegations went to the Jidir Plain and were told of how our heroic soldiers had climbed the steep rockface to reach the plain and to go on to recover Shusha from the enemy at the cost of their lives and blood. The Jidir Plain serves as a venue of remarkable events as it used to do years back.
The leaders of the parliamentary delegations of Uzbekistan, Kyrgyzstan, Malaysia, Libya, Benin, Bahrain, the SAR, Djibouti, Ecuador, Cambodia, Gambia, Mozambique, Namibia, Nepal, Uganda, Venezuela, Yemen and Syria were there together with their entourage and the representatives of the Organisation of Islamic Co-operation, the Parliamentary Assembly of the Black Sea Economic Co-operation and a number of other international organisations.
The Press and Public Relations Department
The Milli Majlis
---
---