Chair of Milli Majlis Sahiba Gafarova Meets Speaker of Kuwaiti National Assembly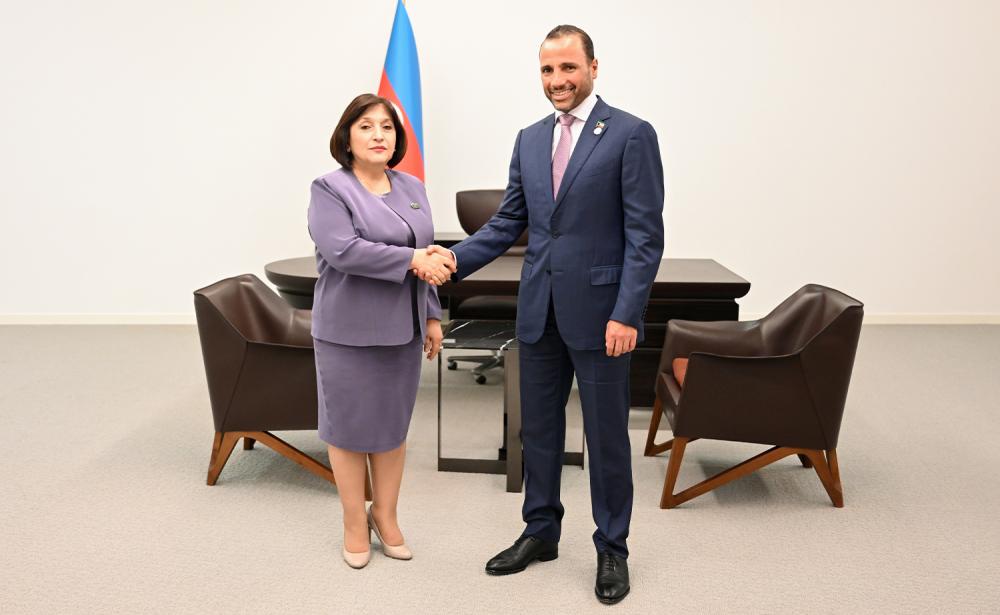 Chair of the Milli Majlis Sahiba Gafarova told Speaker of the National Assembly of Kuwait Marzouq Ali al-Ghanim as they met on 1 July that she was glad to welcome him in Azerbaijan and appreciated his participation in the Baku Conference of the Non-Aligned Movement's Parliamentary Network.
Mrs Gafarova talked about the evolution of our inter-state relations and of Azerbaijan giving a weight to this process which is greatly upheld by reciprocal visits of the heads of the two states and the conversations taking place during those visits. Besides, she mentioned with appreciation the non-stop advancement of the bilateral political, economic and cultural connexions.
The co-operation of the legislative assemblies was broached then, especially, its import in the context of the co-operation; Mrs Gafarova lauded the work done by the friendship groups of the two legislatures.
Also, Speaker Gafarova talked about the significance of the NAM PN Baku Conference, the relevance of the matters tabled during it, the introductory speech of President Ilham Aliyev of Azerbaijan and the global nature of the subjects he had covered in that speech.
The leader of the Kuwaiti National Assembly Marzouq Ali al-Ghanim thanked for the hospitality and the sincere conversation before saying he was glad to take part in the Baku Conference and praising the initiatives generated by Azerbaijan since the start of her chairmanship of the NAM. Mr al-Ghanim said he was sure that the work of the Parliamentary Network would be successful, and wished the Baku Conference success.
Mr al-Ghanim proceeded to mention the omnipresent progress observable in Azerbaijan, Kuwait's interest in promoting its connexions with our country and the extensive opportunities to hand to broaden the interaction.
Promotion of the inter-parliamentary links, the weight of parliamentary diplomacy, the essentiality of two-way visits in exchanging legislative experience and several other matters of concern to both sides were discussed at the meeting as well.
The Press and Public Relations Department
The Milli Majlis
---
---